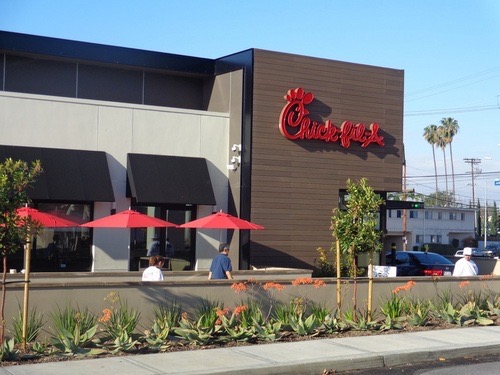 Fast food around the Buena Park campus. We asked 8 people around the campus and we asked them what their favorite places were. The most popular places were Chick-fil-a and Mcdonald's. Chick-fil-a had two votes. While Mcdonald's had a respectable two votes as well. Chick-fil-a got the most votes because of their customer service and because of their very popular Chick-fil-a sauce. Mcdonald's in second place with two votes was voted this high because of the price and availability of the place. 
The most popular things bought from Chick-fil-la were the chicken sandwich combo, the 8 piece chicken nuggets, and their chicken tenders. All coming in with one vote each. The sauces were also a big component on why this place was voted so highly. The most popular sauce was the Chick-fil-a sauce. The most popular things bought from Mcdonald's were the chicken nuggets, fries, and quarter pounder. The chicken nuggets had two votes and the quarter pounder had one. While the fries lead the pack with three votes.  
Story continues below advertisement
The least favorite fast food places were taco bell and Jack in the box both coming in with two votes each. Taco Bell was voted in because of the quality of the food and just the overall quality of the restaurant. Jack in the box was voted this way because the burgers were said to be greasy and that the food just doesn't taste good. The foods people would get from taco bell were the nacho fries, and the burrito box. While  Jack in the box hadthe Jumbo Jack and the chicken nuggets.
From this data it was found that most people have fast food at least once a week. In some people it was even 3 days or even the whole week. This is a reflection on America as the obesity rates grow higher and higher every year. This is a result of fast food as they are relied on by most people as it's fast and reliable. Fast food is good every once in a while but it needs to be put in check by people.