Seniors going to college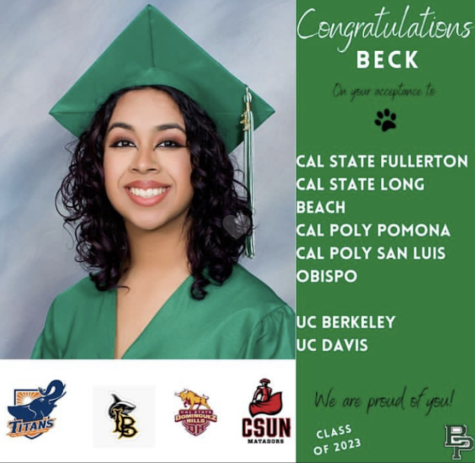 As the school year ends for seniors they get their acceptance letters from colleges they applied to. Some are getting into Fullerton, Cypress, Long Beach, and Cerritos. Then some students got into CSF, CPP, CSDH, USC Berkeley, and UC Daivs. The question is what colleges did students get into and what will they major in?
One of the four students to be interviewed was Miles Lowe who got accepted to UC Davis for Electrical Engineering Lowes stated that his initial reaction was "Shocking" stating that "I was not expecting a UC to accept my admission for their school. Pretty excited and happy. I would like to thank my friends and family for their support in building who I am today." Lowe stated that after College when he gets a degree in Electrical Engineering he wants to "Work in a business where [he] can work under a boss, to learn what it's like in the engineering field, but eventually later in life I want to make a company of my own and become [my own] boss." Lowes also spoke about how he just wants to continue his family's path with going to college since most of his family has gone to college.
The next student to be questioned was Quinn Flores who's been accepted to Cal Poly Pomona, Cal State Fullerton, and Cal State Dominguez Hills, but will only be attending Fullerton College this fall to major in Criminal Justice. Flores stated how "My reaction was definitely  being excited. I have a good feeling about college and am excited to see where it all goes." Flores also stated that during their college years, they want to "Transfer to a university and get my bachelor in criminal justice. But beyond that, I want to start living my life and travel." Flores then stated that the reason she wanted to go to college is because "My oldest sister was the first in my family to attend college." 
Next, we have Frankie Smith, who's been accepted into Grand Canyon University to major in Business. Smith's reaction to getting accepted was simply put as "It being awesome." Smith also states that he wants to open up a business after college when he's ready. He also said that he hasn't had any family that has gone to college but he's happy he will be among the first to go to a significant college in his family.
Now we finally have Beck Valle who's been accepted into UC Berkeley majoring in neuroscience. Valle stated that their initial reaction was "I was excited, I couldn't believe I got into my dream school." Valle commented that their plan after college is to "Go on to med school to be a doctor and eventually join the doctors without the border's initiative. I am also interested in psychedelic research to find new ways to treat mental illness. Or be involved with expanding access to healthcare and health education for underprivileged and undocumented communities." Valle spoke about how she wants to help low income families get accessible healthcare. The next question for Valle was asked if she had any siblings that went to college. They stated how "I was inspired by my mother's journey of pursuing higher education from community college to Cal State Fullerton all while raising two kids" a very inspiring reason as to why Valle is going to college.
Congratulations to the graduates of 2023 for getting through your final year of high school and for getting into college.