Knott's Berry Farm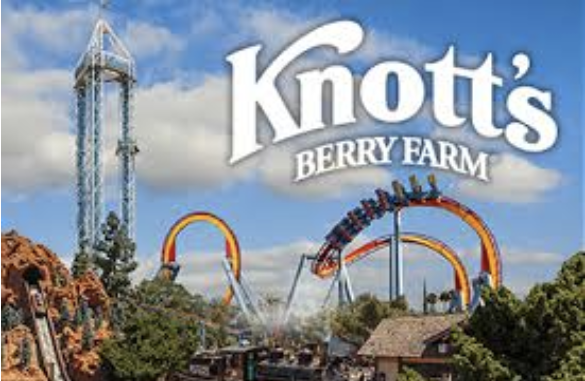 Knott's Berry Farm has actively grown and been open for 103 years. Have you or anyone you know been curious about the history of Knott's and how it started off as a berry farm with a nursery to sell plants. Also a tea room that was called Mrs. Knott's Chicken Dinner Restaurant. To the amusement park that it is now? 
Knott's Berry Farm is a 57-acre theme park located in Buena Park, California, owned and operated by Cedar Fair. In March 2015, it was the twelfth-most-visited theme park in North America and averages approximately 4 million visitors per year. It has 10 roller coasters and 2 water rides. The park features 40 rides including roller coasters, family rides, dark rides and water rides, and it employs approximately 10,000 people. Knott's Berry Farm was opened in 1923. Some of the areas and attractions from Knott's are Calico River Rapids, Camp Snoopy, Ghost Town & Calico Railroad, Grand Sierra Railroad, Knott's Bear-y Tales: Return to the Fair, La Revolucion, Sol Spin, Sky Cabin, Supreme Scream and Timber Mountain Log Ride. 
In the 1990s, after Walter and Cordelia died, their children decided to sell off their businesses. Long before it was named Knott's Berry Farm it was originally named Knott's Berry Place. Knott's Berry Farm is one of the oldest and one of the largest theme parks in the United States.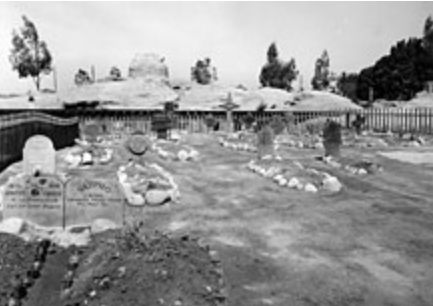 This picture shows the boot hill cemetery at Knott's Berry Farm in the 1950s.
Initially, the Knott's were given an opportunity to sell the park to The Walt Disney Company. The park would have been amalgamated into the Disneyland Resort and converted into Disney's America which had previously failed to be built near  Washington, D.C. The Knotts refused to sell the park to Disney out of fear most of what Walter Knott had built would be eliminated. The new owner of Knott's berry farm is Cedar Fair Entertainment Company and the general manager is Jon Storbeck. On May 25, 2013, Knott's Berry Farm added three new family rides on the site of the former Perilous Plunge, including a wild mouse called Coast Rider, a scrambler flat ride called Pacific Scrambler, and Surfside Gliders. All three were constructed in the Boardwalk and became the entrance to Surfside Gliders and Pacific Scrambler. 
  We wanted to get an input on how it is to be an employee at Knott's Berry Farm so we interviewed Lillian Good a senior here at Buena Park and asked her detailed questions on how it is. Lillian started working at Knott's last summer during July. Her most enjoyed ride there is Xcelerator because it goes really fast. A piece of history of Knott's that she knows is it was once just a berry farm that families would come and bond. Lilly explained "The most difficult part of working there has to be the different weather seasons." Her favorite thing about working at Knott's is interacting with her employees and seeing different people around the park. Last but not least, her favorite area of the park is ghost town because it's the most interacting. 
 Knott's Berry Farm is top 16 most visited amusement park in SoCal. As it just started off as a berry farm in 1923 to the amusement park it is now.