Senior Article
 Do you remember being a kid and closing your eyes, trying to picture your senior year? Well class of 2023, our high school experience is almost coming to an end. Now we're finally here closing our eyes picturing life as an adult. While this may be the most exciting year for some, others may feel overwhelmed. Overall I think there's mixed emotions everywhere..
   I began to ask two seniors about their high school experience and inputs on their struggles and activities they enjoyed throughout their four years at BPHS. 
  I first talked to Samara Lilrando, and set up the questions I came up with. Samara expressed to me that her high school experience was exciting and adventurous. A struggle that she faced and still has some trouble overcoming is procrastination. A piece of advice that Lilrando has given for staying on task is "If you get it done now, you won't stress on it later.'' An accomplishment that she has is getting accepted into all the colleges she applied to! Samara's favorite high school memory is all the laughs and conversations she had with her teachers and friends. 
  Samara's biggest piece of advice for incoming freshmen is to enjoy high school, and make as many memories as you can but don't let that distract you from staying on top of your school work. Her goals for after she graduates is going to college and becoming a dental hygienist. Something little Samara will be proud of is getting accepted to all the colleges sheś been accepted to.  A goal she has for her future self is to experience every part of the world. 
  Continuing with the questions, I began to also talk to Shyian Ford and she strongly expressed that the experiences she learned from Buena Park High helped developed not only her skills for class but for outside of school as well. She explained that her teachers have exposed her to different learning styles, and was always encouraged to step out her confort zone, and the motivation and confidence to go and follow her dreams and create goals for herself. This helped her get involved with activities. Teachers at school have an good impact on Shyians on how they not only do their job but take their time and give advice on becoming young adults. 
  Following up, something that was difficult for Ford to overcome was the ability to have confidence in her work, she started growing a habit of second guessing herself about her school work. Especially in her most difficult classes. Her teachers started to tell her that she was getting too hard on herself because she is smart! One of her teachers said. She overcome this struggle by giving herself the benefit of the doubt and have confidence in her work. She continuing to work on this. An Accomplishment She is proud of is being a role model for underclass men and incoming freshman and helping them adapt to high school life. Shyian is also apart of Link Crew where theyre able to be role models and help them with what they need. She also really enjoys the company from her freshman from Link Crew. 
  A high school memory Shyian has is from this year, the night of homecoming. It was her first time going to a high school dance and she had an amazing time. ¨The homecoming dance was amazing. I got to dance and hang out with my friends. I made so many new memories that night. I never knew that high school dances could be so fun and nicely setup¨. A piece of advice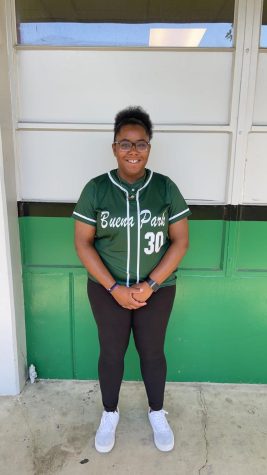 Ford has for the incoming freshman is to participate in what BP has to offer even though it may seem scary at first. ¨Take advantage of the activites because there are not a lot of schools that have what we have and they take it for granted that they can really help you in the future." Said Shyian. Ford also talked about going to dances and pep rallies because high school goes by really really fast so enjoy it while it lasts.
  Shyain´s plans for after high school is to get her first car and go through her first stages of adulthood. Something little Shyian Ford will be proud of is finally graduating high school. It proves to her that her hard work payed off. A goal Shyian has for her future self is to work at orange wood foundations where she can help young kids in need and be and never give up on themselves. 
   Great job to every senior that made it this far! Our hard work is almost over.