Psychology on Athletes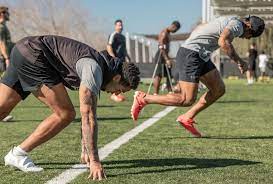 Psychology plays a major role in athletes' thought process; it's something that not many people take into consideration. It can affect the athletes by their mental thoughts, how calm they are during events, how they deal with pressure, and response times. 
At Buena Park High School there are many sports departments like: Football, Soccer, Track, Waterpolo, Baseball, and softball. There's many things that drive said athletes like drive, confidence, calmness, emotional control, and mental focus. The four things that make a athlete is the four C's described by Peter Clough as: confidence, challenge, control and commitment
The sport psychology of athletes can vary in different results depending on who you ask in any sport. Sport psychology stated by OKWU.edu is "Sports psychology is a very specific area of psychology dealing with the mental factors that may influence sports performance, as well as the mental well-being of athletes." It's what can help make the athlete during a sporting event or break them without the help or motivation they need. This psychology doesn't just focus on helping the athlete but it helps with research around how being in sports or participating in exercise can affect an athlete's well being or mental health. 
Alex Delgado, a quarterBack for the Buena Park High School Football team was asked, "How does last season's record affect players' mentality and drive?" and "How did it feel to step up after Arron Rodgriuez got injured" to which Salgado responded with "It gives me motivation to be better it's something that can help me build off of but if I'm being honest I wasn't prepared to step up to Arron's position because it was out of nowhere it took me up until league to get used to it but I wanna make sure that next year the players are a lot more honest in what they do during games." 
Next person to be interviewed was Yessenia Chavez, a track Captain who participates in the 800, 1 mile and is currently training for the two mile. The two questions asked to Chavez were "What helps you have a clear mind or a positive thought process during a race" and "How does confidence play in with any track meet you've had" she stated that "During a race I just try to focus on my technique and who is cheering for me but being captain of the track team I need to be really confident and have a certain outlook on my team because if they have a insecure or like a self thoughting captain I Feel like it'll reflect on my team so as senior i just want to leave them with a good impression on them."
For the next interviewee Jaydee Santillan a center mid player for the Buena Park High School female soccer team was asked "Do you get nervous when crowds scream during your game" and "How do you mentally prepare yourself for a game" to which Santillan responded with "I usually watch highlights of my favorite players but I don't get nervous when crowds scream." 
Then Melia Hinojos, a player for the Buena Park High School female basketball team was asked to state her opinion on "How do you react to hostile crowds and student sections at away games?" and "Are you able to keep your composure in a tight game? If so, how?" to which she stated that "Before every game I keep the same routine to calm my nerves. I always have my headphones in during warmups, while I stretch and take shots. The music always fills me up and gets me ready to play the game I love. When the student sections start coming in the gym it pumps me up because I love the energy they give off. But on away games I try my best to ignore the crowd because they think screaming or yelling to distract me but little do they know it makes me want to win the game more. I love to embrace the crowds because it makes me feel alive, even if its too much or too little."
Finally, Joshua Kulp, one of the Coaches for the Buena Park High School football team was questioned about "How does a coach's influence on a player affect the athletes  performance?" and "How do you mentally prepare your players for a game?" but according to Coach Kulp he stated that "I believe that a student athlete will perform better for a coach that has been able to influence that athlete as they will not want to let them down."
Be sure to get help if you need it or feel unsure about anything. Be sure to seek help by talking to an adult, going to the coyote corner, or even going to therapy. Your Mentality and Mental state matter.